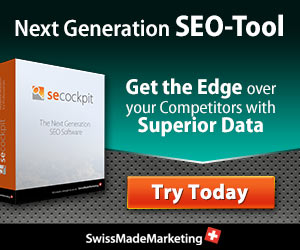 SECockpit is an advanced keyword research tool that gives you many capabilities to help you design more profitable marketing campaigns. Keyword research is at the foundation of any type of web based marketing. This is what your audience is searching for, which products and ideas are trending and how your competition is succeeding or failing. In this SECockpit review, we'll be taking a close look at SECockpit to determine how useful it is, whether it provides good value and also sum up all the available SECockpit discounts.
SECockpit DiscountGet $100 Off After The Webinar
Main Features of SECockpit
Here are some of the leading features we found significant in our SECockpit review;
Web-Based -No need to install or download the software. Compatible with all operating systems and all major browsers, such as FireFox, Opera, Safari and Chrome.
Allows Multiple Keyword Searches per Day -The number of searches you are allowed to make depends on the plan you choose.
Geography-Based Keyword Research -Find out which keywords are popular in different cities and countries. Useful for campaigns that are targeted towards specific areas.
Get Fast Results -Unlike many keyword tools, SECockpit is cloud-based and is able to process large amounts of data in a short time. You can get up to 200 keywords per minute. Additionally, being cloud-based means that you don't have to worry about your IP getting banned from doing too many searches, which can happen using other tools.
Complete Analysis of Keywords -You get a full competition analysis of the top ten pages for every keyword you search for.
Find Hidden Keywords -SECockpit does more than show your competitors' keywords. It also has a Google Suggest scraper that recommends lesser used but still valuable long tail keywords. This gives you ideas for keywords that your competition is probably not using.
Pricing For SECockpit
SECockpit provides one of the most comprehensive keyword tracking tools you can find anywhere. To gain access to this service, you have a choice of several plans.
Personal -$339/year or $40/month. Searches limited to AdWords, up to 10 searches per day. Follow this link to get SECockpit discounted Personal plan (if applicable).
Pro – $599/year or $80/month. Access 50 keyword searches per day. Get keyword ideas via Suggest and Related Searches. Run up to 20 projects at a time. Ranking for all countries and languages. Follow this link to get SECockpit discounted Pro plan (if applicable).
Agency – $899/year or $120/month. Unlimited keyword searches. Unlimited projects. PDF reports and white labeling. Follow this link to get SECockpit discounted Agency plan (if applicable).
We have a unique SECockpint discount offer – follow this link to get up to a 50% SECockpit discount off the Pro plan, after you sign up and watch the training webinar (discounts for other plans are currently not available).
SECockpit is offering free access to RankTracker for people who sign up at this time. RankTracker makes it easy to check rankings by city or internationally. Get daily updates, with exact results up to the 500th ranking position.
All plans come with a 30-day money back guarantee. This gives you a chance to try the service for a whole month and decide if it's right for you.
SECockpit Discount$100 Discount Offered After The Webinar
Overall Value of SECockpit
SECockpit allows you to do thorough keyword research. It's cloud-based features make it faster and safer than most tools offered by competitors. At the same time, it's not cheap compared to many other keyword research tools.
This is a tool for people who are serious about conducting in-depth keyword research on a regular basis. This includes:
Affiliate Marketers -Keyword research can help with identifying the most profitable products and markets.
AdSense Marketers -Identifying high traffic, low competition keywords can help you build more profitable AdSense sites.
SEO Specialists and Agencies -If your business is helping others, such as online or local brick and mortar businesses rank better in the search engines, a powerful keyword tool such as SECockpit can be very valuable.
Digital Product Creators -You could create a product, such as a course or a book to sell on Kindle based on keyword research done with SECockpit.
Because of the price, SECockpit is less used by complete newbies, casual part-time marketers or people on severely limited budgets. For anyone who can afford it, however, and who wants access to a cutting edge keyword research tool, SECockpit provides solid value and a way to gain a real edge over your competition Hopefully our SECockpit discount helps you to get there. If it is still pricey for you, make sure to check our additional keyword tools and discounts, such as LTP, Market Samurai and others.
Keyword Research Tools Promo Codes