Thrive Themes and services can help you get the most out of a WordPress site. Thrive is a unique membership service that offers themes, landing pages, a content builder and other features to help marketers create more compelling web pages. While Thrive can help anyone build more appealing WordPress blogs, the features are especially designed for marketers to increase conversions and sales. In this Thrive Themes review, we'll be taking a look at what you get with Thrive, including Thrive discounted pricing plans and the overall value of the membership.
A Look at Thrive Themes
The foundation of the Thrive membership service are the themes. There are thousands of themes made for WordPress out there. Many of them, including the default theme you get when you first build your site, are free. Free themes, however, have the disadvantage of being rather generic. Since they are used by so many other users, they make it difficult to brand your site and make it distinctive. You are also limited in terms of features, updates and customers service. Even most paid themes are not made specifically with marketers in mind. This is the main distinction that you get with Thrive Themes -these are themes made especially for the purpose of increasing conversions. Some of the features that set these themes apart include:
Highly Customizable -You have a wide choice of page elements, colors and more than 600 fonts.
Easy to Create Reader-Friendly Pages -Wide choice of fonts, colors and layouts that make your page easy to read. You can also create features that encourage readers to take action, such as countdown timers and click-to-call phone numbers.
Faster Loading Pages -Having pages load fast is essential for retaining visitors and also for SEO. Thrive Themes give you automatic image compression and other features that optimize speed.
Full Support and Training -When you're a member of Thrive, you have access to lots of tutorials, webinars and other training tools. You can also contact knowledgeable customer service staff If you have any questions.
Access to Updates and Improvements -You will benefit from all of the updates and new releases that are introduced to the themes and other Thrive elements.
Along with the themes, you also get a powerful content-building tool with Thrive. This is a fast and intuitive visual editor that makes it faster to create and edit all of your content. It also includes capabilities such as
Responsive Videos -Embed videos that can be viewed on any type of device.
Testimonials -Build social proof with testimonials and reviews with star ratings.
Call-to-Action Buttons -Make it easy for readers to share your content on social media sites like Twitter.
Content Boxes -Place text or pricing tables in strategic places to grab the attention of your readers.
Opt-in Forms -Build your mailing list with attractive optin-in forms. This works with the Thrive Leads plugin, described below.
While you don't necessarily need Thrive to create these and other features for your content, it would take you much longer to do these things manually. Being able to use Thrive's drag and drop style content builder allows you to create compelling content more efficiently.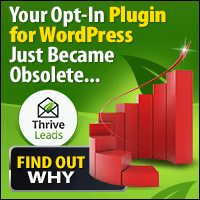 One of the most powerful features that come with Thrive Themes is a unique plugin that helps you build your mailing list. This plugin lets you create a variety of professional looking opt-in pages without needing any technical skills. You can literally build any type of opt-in form that is right for your site. You can choose among styles such as in-line forms, slide-ins, sticky ribbons that follow the visitor down the page and popup lightboxes. You can test different types of forms and find out which produces the best results.
Thrive Leads also allows you to precisely target your audience so you can build a truly responsive mailing list. You can implement advanced A/B testing for your email campaigns, which makes it possible to fine-tune your approach with each mailing. You also get detailed metrics so you can track your results.

Landing or sales pages can be very effective for selling products or getting people to sign up for your list. You can place links to your landing pages in paid ads, blog posts, social media sites, videos or anywhere you want. Thrive provides members with customizable sales, lead generation and landing pages that can be used to promote any type of business or offer.
Check Thrive Free Landing Page Course
Plans and Pricing For Thrive Themes
Thrive is set up as a membership site. When you are a member, you have access to all of the features, including the themes, landing pages, opt-in forms and Thrive Leads features. Members also have access to all future updates and releases, including any new themes and plugins that are introduced. The regular price for membership is $228 per year for a personal license and $588 for an agency license. At this time, however, Thrive is offering a discount for both memberships.
[This discount is currently not available] You can currently get a Personal License for $147 per year, which lets you use all of the Thrive features on unlimited websites that you own. You can currently purchase an agency license for $247 per year, which allows you to use all Thrive features on sites for your clients as well as your own sites. This is a great option if you build websites or do SEO for businesses.
We will update here whenever new Thrive Themes seasonal discounts are available, usually during holidays and Black Friday/Year End seasons
Who Can Benefit From Thrive Themes?
Thrive Themes and related features are an excellent value for marketers who are looking for a way to get more conversions and sales from their WordPress sites. You may not need all of the features offered by Thrive, but members have access to a large toolbox that helps transform an ordinary WordPress blog into a site that's perfect for any type of marketing.
A Thrive membership can be a valuable investment if you have any type of online business or if you offer website or SEO services to local businesses. If you only want to improve your own site or sites, a personal license is sufficient; an agency license will give you the ability to build great WordPress sites for clients faster than ever before. Thrive is also a powerful tool for building mailing lists.
In conclusion, if you like WordPress but have been frustrated at how difficult it can be to make your sites better for selling and getting leads, you should consider becoming a Thrive member.