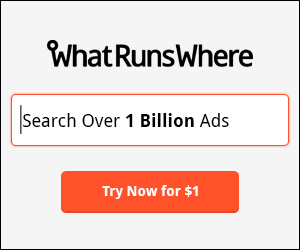 WhatRunsWhere is a marketing software that gives you the ability to learn all about the advertising campaigns your competitors are running. There are various kinds of "spying" services and software to choose from, but this is one of the most comprehensive and feature-rich. WhatRunsWhere shows you how people are using display, mobile and native advertising. You can choose among several plans.  In this review, we'll look at the main features, benefits, pros and cons of WhatRunsWhere to help you decide if it's something you'll want to add to your marketing arsenal. Occasional WhatRunsWhere coupons and promotions will be updated below as well.
The Benefit of Doing Competitive Analysis on Advertising
Advertising is a costly investment in your business. It often requires a great deal of testing and tweaking to come up with profitable ads and campaigns. One way to shorten the learning curve is to find out how your competitors are advertising. If you knew which ads were successful for the competition, you could save yourself lots of time and money on testing. You still have to do your own testing, of course, but you'd have an edge right from the start. In effect, you're letting the competition spend money doing a lot testing while you benefit from the results.
There are a variety of ways to spy on your competitors. You can simply observe which ads are running consistently and deduce that these ads must be profitable. You can request information from competitors and visit their websites, which will expose you to some of their retargeting campaigns. Yet all of this takes quite a bit of time and research, however, to track your competitors' ads. Finding a tool that automates this process can save you lots of time. WhatRunsWhere gives you the ability to tap into this information in a fast and systematic way.
WhatRunsWhere: What it Does and How it Works
Here are some of the leading features of WhatRunsWhere:
Provides access to data from 21 countries and 120,000 display publishers. You can get data from the USA, UK, Australia, Canada and more. There's also data from 190 classified ad networks.
Detailed information on advertising. You learn which ads are successful, where ads are being placed, which networks ads are purchased through and which calls to action are working best.
Monitor campaigns in real time and historically. There are benefits to seeing up-to-the-minute data, so you know what's happening today. You can see campaigns in real time. However, it's also helpful to look at historical data to see the results and evolution of longstanding campaigns. WhatRunsWhere lets you do both, with data going back five years.
Mobile Awareness. This is a separate application that provides detailed information about mobile advertising campaigns. You'll see which mobile apps your competitors are using and how they're performing. You have access to the performance indicators and creative strategies your competitors are using for mobile.
Native Advertising. More and more businesses are employing native ad campaigns. These are ads that blend in with the platform in a way that disguises their status as ads, or at least makes them less obvious. Native ads are among the hardest to spy on without the right tools, as they're more subtle. WhatRunsWhere provides the industry's leading native ad coverage, which includes the 17 leading native advertising networks, including Outbrain, Yahoo, Taboola and Gravity.
Some Ways You Can Use WhatRunsWhere
If your business is engaged in paid advertising, there are several ways that you can benefit from WhatRunsWhere.
Search by advertiser or publisher. You can use the software to search by different criteria. You can, for example, search by advertiser if you want to know what a particular competitor is doing. You simply type in the domain of the company that interests you, and you'll get information on their ad campaigns. Another way to use WhatRunsWhere is to search by publisher. This tells you which ads are most effective on a site that accepts ads.
Expand Internationally. Because WhatRunsWhere is available in 17 countries, you can use the data to advertise effectively in other countries. If you're currently based in the U.S., for example, you'll find that many other countries are significantly less competitive.
Find new places to advertise. There are almost endless possibilities for advertising online, with new ones appearing all the time. You may be searching for new websites and networks to reach a wider audience. WhatRunsWhere can show you new places to advertise by providing you with lists of where your competitors are advertising.
Spot new trends and patterns. Advertising tactics are always changing and old strategies quickly become saturated. It's important to spot profitable trends as early as possible. You can use WhatRunsWhere to identify patterns. If you see that competitors are suddenly using a certain type of ad in many places, there's a good reason for this. Because you have access to real-time data, you won't lag behind. You can spot and profit from new strategies immediately.
 WhatRunsWhere Pricing and Coupons
Depending on whether you're interested in display and/or mobile, you can decide which plan works best for you. You can choose among Display Awareness, Mobile Awareness or Display + Mobile. There's a further choice between Basic and Enterprise plans. Basic is for a single user. Enterprise allows for multiple users, customized reporting, team training and other benefits.
For Mobile Awareness, the Basic Package is $175 per month. For Display Awareness, the Basic Package is $249 per month. For Display + Mobile, the Basic Package is $329 per month. Enterprise pricing depends on factors such as the size of your business, the number of users and how much data you need.
To test the features, we recommend signing up for a free 3-day trial of WhatRunsWhere.
WhatRunsWhere coupon code AFF.FIX6FOR4 will give you six months for the price of four.
Pros and Cons
Here are some of the main pros and cons of WhatRunsWhere:
Pros
Helps you plan more effective ads based on what you learn about competitors.
Save money by letting competitors do your testing for you.
Find new places to advertise. Makes it easier to start off with new forms of advertising, such as mobile and native.
Cons
Requires a certain investment, so it's really geared towards businesses that are serious about advertising.
You must know how to interpret results. Like any tool, you have to learn how to use WhatRunsWhere, so it gives you useful results. Even with the best data, you can't know for certain what's going to work without doing your own testing.
Who Can Benefit From WhatRunsWhere?
WhatRunsWhere is a very useful tool for any business that wants to increase the effectiveness of its advertising campaigns. Being able to spy on your competitors lets you profit from both their successes and failures. This software lets you do this without having to spend tedious hours of research.
The monthly cost of WhatRunsWhere is something you have to consider. The price makes it appropriate if you advertise regularly or plan to do so. If you're a beginner with an ad budget of $5 per day, you may want to wait before investing in one of these plans. On the other hand, whether you're a beginner or experienced advertiser, this software can definitely help you get more out of your advertising. You can easily make back the cost of a monthly subscription by improving the ROI on your ads.